Preacher Man is now a music video. Check it out on my Video Page or go to YouTube and leave a comment.
Open Window, My first solo project, is now available for purchase at MY STORE or for download on CDBABY!!
Silverhead in Tokyo? Yes, it did happen, and it was amazing!!! You folks were wonderful and we canít thank you enough for your hospitality and enthusiasm. Check out the Official Silverhead Facebook Page for great pics and memories of the event of our lifetimes.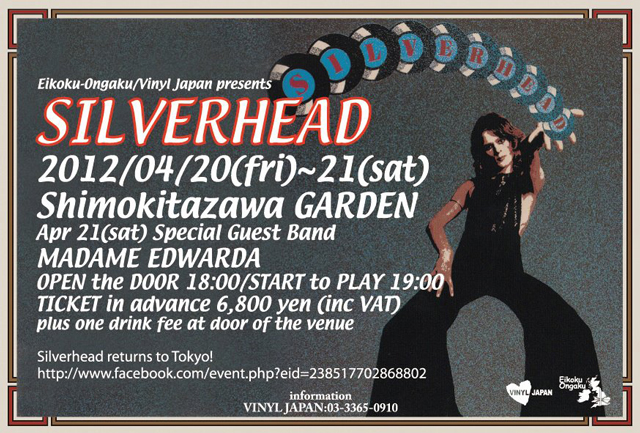 Dec 6, 2011 After 40 years, Silverhead is getting back together to do a couple of shows in Tokyo next April. Itís hard to believe that after all this time, all it took was a few of phone calls. Michael, Rod and Nigel have gotten together at Rookieís place near L.A. to start things rolling. Robbie and I will be joining them in Tokyo for rehearsals before the show. Itís going to be great to see the guys and rock out again. I feel like a kid thinking about it and Iím finding it hard to wait. Tetsuya Nakatani of Vinyl Records is putting on two shows at the Shimokitazawa Garden on April 20 & 21. You can get all the details on our Official FaceBook Page. Stop by, Like the page, say hi, share your memories, pics, ask questions....See you there!!! And stop by my gallery page, Iíve got some Silverhead pics there too.
Jan 27, 2011 Time to hit the road again. RTB is back and ready to rock the States. Iíve started posting on my Blog too. See ya out there!
Dec 7, 2010 Robin Trowerís newest release ďThe Playful HeartĒ is now available. It was wonderful to be in the studio with such a great bunch of musicians and to get the opportunity to work with my old mate, Livingston Brown, who produced the album. Get all the details on Robinís Website
Jan 21, 2010 Hereís a sample of one of the tracks Iíve been working on. I hope you like it. Let me know what you think. More soon ... Cheers! (Webmasters note: Iíve deleted this sample because Pete has now uploaded this song and others to his Reverb Nation Profile. )
Dec 7,2009 Wow, sorry about not posting much these last few months. Iíve been relying on the blog for most things. The 2009 tour is over and Christmas is rapidly approaching. Iíve been hard at work writing songs and with the help of Steve Satterwhite and his amazing engineering skills, Iíll have some of them ready soon. And now that Iíll be home for a while, Iím also expanding my teaching practice. If you know of anyone in the DFW area that would like lessons, please let them know about me. Happy Holidays and thanks for your support and well wishes this past year, and always.
Sept 23, 2009 The second leg of the RTB US Tour is now 2 weeks on the run. There are new pictures from Neil Calandra (check out the excellent B&W on my home page) coming soon. Iíve been blogging everyday so stay in touch with me there or leave me a message in the guest book. Thanks to everyone for coming to the shows so far, youíve been great! Iím really looking forward to playing for the rest of you.
Sept 10, 2009 Tomorrow starts the Final leg of The Robin Trower Band US tour in Atlantic City. They will be traveling the east coast. Check the map above for a show near you.
June 15, 2009 The new pictures from the 2009 RTB tour are in the Gallery. Many thanks to Chris A and Angie. If you want to see more from the tour, visit Steveís Place for concert reviews and pictures. Neil Calandra has just posted some fantastic B&W photos there.
June 11, 2009 There are new pics and reviews from the 2009 tour at Steve Place. More pics for the gallery coming soon. Be sure to read Peteís Tour and Studio Blog for the latest from the road.
June 2, 2009 In the year long break between the 2008 and 2009 tours, I have been working on several projects. One I am especially honored to be associated with is Damage Limitation, a charity CD being produced by Robin George of Thin Lizzy fame. Go to my Audio page for more information and a sound clip.
June 1, 2009 Neil Calandra sent me a shot of my DW kit, thanks Neil. You can check it out on my Gear page.
May 22, 2009 Pete is in Los Angeles and has posted his first Blog for the 2009 tour. Check it out and sign up to follow his news from the road.
May 8, 2009 All dates and venues are in for the RTB 2009 US Tour. Check out the map and buy your tickets sooner rather than later. Theyíre going fast.
April 29, 2009 The first 10 dates for the 2009 Robin Trower are being postponed to July. I have updated the tour map and will be posting all the new dates as soon as they are confirmed. You can also check the tour page at Trower Power .
April 16, 2009 Iíve just posted a new blog on MySpace. Iím planning on doing so throughout the upcoming tour. Stop by and check it out and subscribe to my blogs for all the latest news. Cheers...Pete
Mar 25, 2009 The second leg of The Robin Trower Bandís 2009 USA tour will start September 2 and carry on thru October 24. Watch this space (and the map) for details as they become available.
Mar 2, 2009 Part 2 of Wes Brittonís interview with drummer Pete Thompson and author Sandy Grabman will be featured on this weeks edition of Dave White Presents. Pete discusses his work with Grammy winner Robert Plant along with many others and we play some of Roberts music as well. Sandy discusses her book about the life and career of humorist Pat Buttram. Pat was best known as Gene Autrys sidekick in movies and on television and played the part of Mr. Haney on the tv show Green Acres. There will be several fun musical pieces and a new episode of The Moral Compass included also. The program previews Tuesday March 3, from 7:30-9PM Pacific time on KSAV radio www.ksav.org and becomes available on a 24/7 basis beginning Wednesday March 4 at www.audioentertainment.org .
Dave White; Host Dave White Presents
www.AUDIOENTERTAINMENT.ORG/dwp
Feb 25, 2009 Thanks everyone for all the kind Birthday wishes !!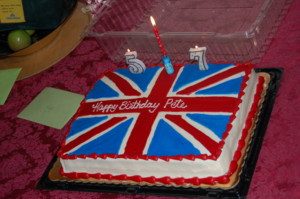 Feb 18, 2009 Part one of Peteís interview is available here
Feb 16, 2009 British drummer Pete Thompson discusses his long career including his work with Robert Plant, Robin Trower, and others on the upcoming edition of Dave White Presents. The program also features an interview with author Jean Davis about her book detailing the murder of her son Ron and the subsequent legal battle. The News From Clancy's rounds out the main elements along with a new Moral Compass episode and a few fun surprises. Dave White Presents previews on KSAV radio www.ksav.org on Tuesday February 17 from 7:30-9PM Pacific time and is available 24/7 at www.audioentertainment.org/dwp beginning Wednesday February 18. So please join Dave and Wes Britton for 90 minutes of variety radio.
Dave White; Host Dave White Presents
www.AUDIOENTERTAINMENT.ORG/dwp
Feb 13, 2009 The RTB 2009 tour map has been updated to reflect the venue changes in Scottsdale, AZ and Bay City, MI.
Feb 10, 2009 Looks like the interview will be broadcast next Tuesday, Feb. 17 on KSAV. Wes just got off the phone with Dave White, and he says the interview came out to be around 40 minutes without the music, so he's going to break it into two parts. As soon as I get the official announcements with the times, Iíll post them.
Jan,28, 2009 Pete has just finished an interview with Wesley Britton that will be aired in the near future on Dave White on KSAV. There is a podcast...details to follow soon. In the meantime, follow the links and find out more about Wes and Dave.
Jan. 21, 2009 First leg of The Trower 2009 Tour is finalized. Get your tickets before theyíre all gone!
Jan. 19, 2009 This just in from Alan Howard
I am delighted to report that my UK fansite is back online ...
All the best.
Alan
Jan.13, 2009 New Dates and venues added to the 2009 tour
Jan. 1, 2009 Robin Trowerís new live cd RT@RO.08 is now available at Trower Power. Get yours now